Romuald Krężel, René Alejandro Huari Mateus 

To See Climate (Change) 
"To See Climate (Change)" is the result of an artistic research project initiated by Romuald Kężel and René Alejandro Huari Mateus at Frankfurt LAB in 2020 and since then further developed through residencies at Hellerau in Dresden, Biennale Warszawa and ZAMEK Cultural Center in Poznań, Poland in collaboration with Monica Duncan, Clara Reiner and Patrick Faurot. The performance had its premiere in Kaserne Basel during Treibstoff Theatertage Festival in September 2021.
Starting from questions about sustainability in the midst of an environmental crisis and its impact on domestic living space, the performance addresses the ambivalences and ambiguities of the relationship between humans and the small dose of nature that can be found at home: indoor-plants. By inviting the plants to speculatively co-create their work, the artists search for possible ways to make the invisible – the climate and its changes – visible through performative means.
Recognizing that in order to create an ecological consciousness with tangible and lasting effects, it is necessary to acknowledge the lack of dialogue between humans and more-than-humans, the performance explores to what extent overcoming this communicative rupture can set the path towards a more egalitarian coexistence between the different forms of life on Earth.
English Language
Duration: 1 hr.
+ The performance on 06.07. 10:00 a.m. is also offered as a school event. Enquiries to Christopher Utpadel, utpadel@hellerau.org, T +49 351 264 62 37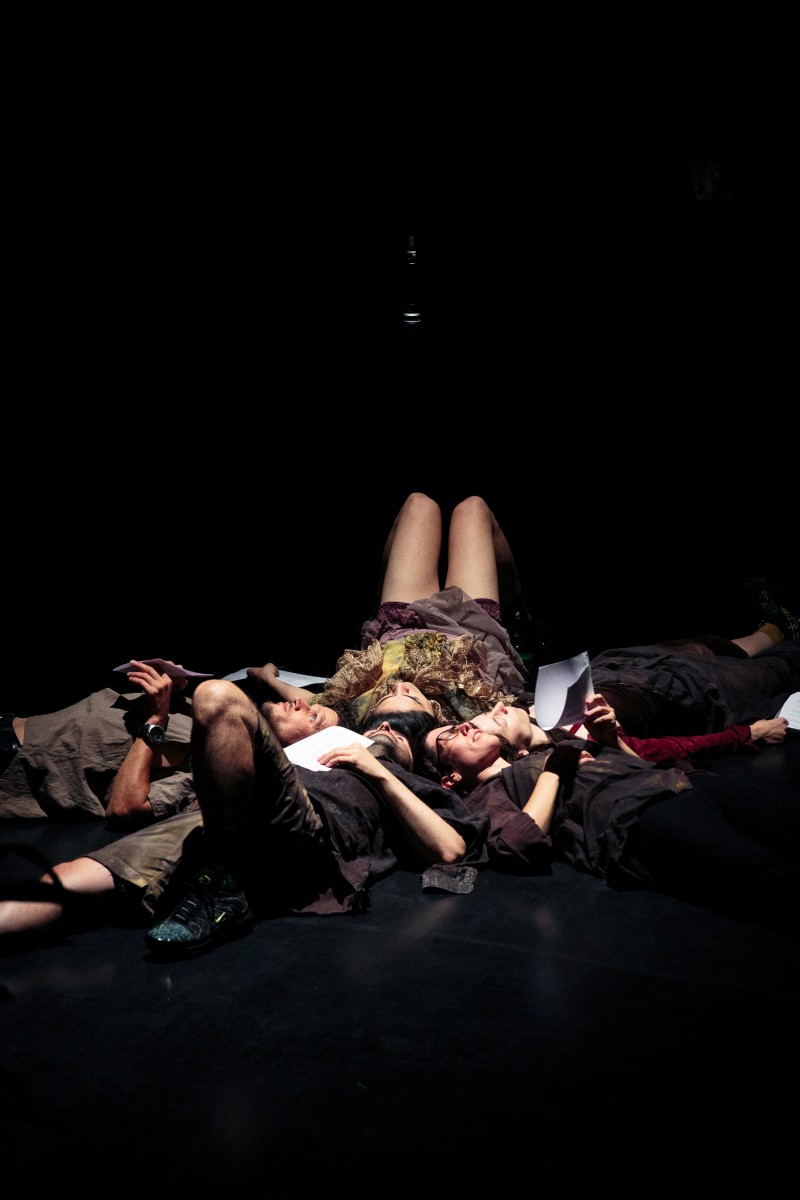 Foto by Nefeli Avgeris
Foto by Nefeli Avgeris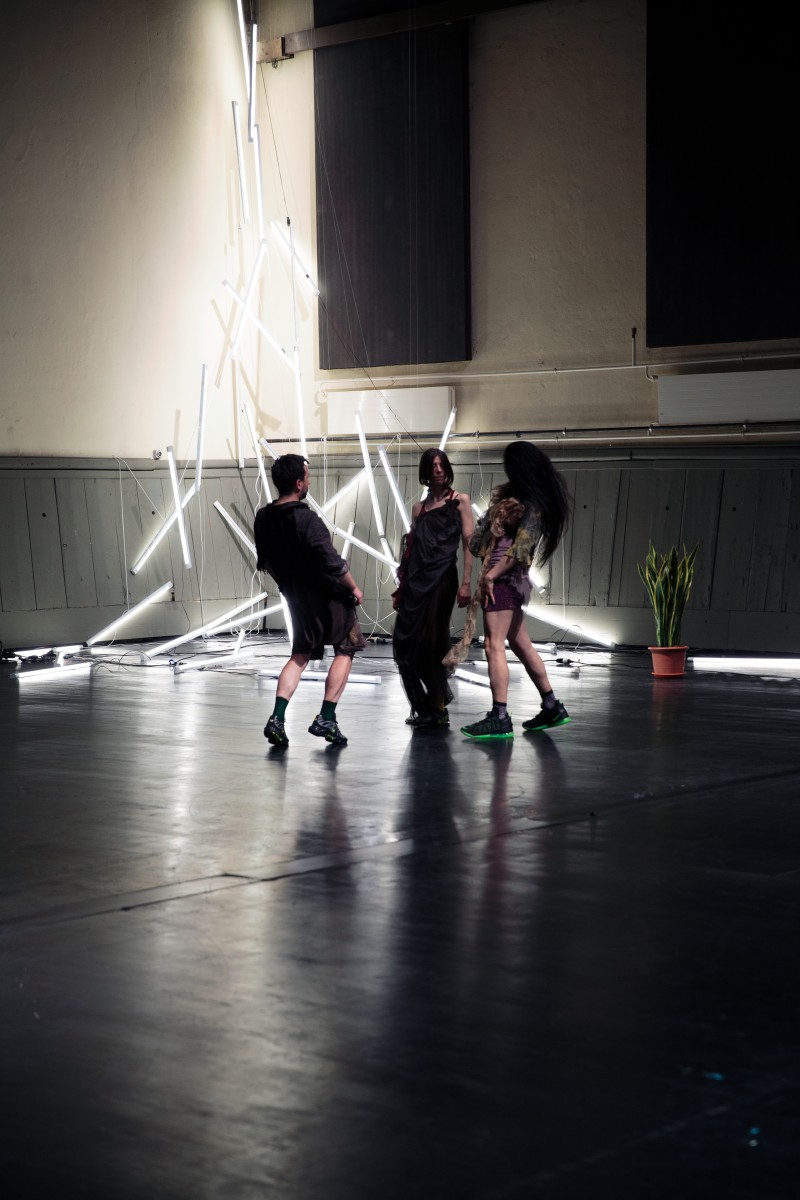 Foto by Nefeli Avgeris
Foto by Nefeli Avgeris
About the artists
René Alejandro Huari Mateus and Romuald Krężel work in the field of performance and contemporary choreography. They met seven years ago during their studies at the Institute for Applied Theatre Studies in Gießen, Germany, together with Monica Duncan, Patrick Faurot, Clara Reiner and Zuzana Žabková. Their collaborative work is based on choreographic practices that incorporate visual and performative elements. The resulting performances, site-specific installations, participatory projects and other hybrid formats have addressed issues such as labour, gender and environmental disasters, among others.
René Alejandro Huari Mateus has studied and worked in Germany as a dancer, performer and choreographer. The intersectional discriminations of class, gender and origin inherent in the institutions in which these disciplines are developed have shaped her*his identity and artistic positioning. René is interested in critical decolonial futures and in exploring them creatively with others.
Romuald Krężel lives in Berlin. His work combines extended choreographic practices with performative elements and visual thinking, creating various experimental forms including movement-based performances, site-specific installations, videos, participatory performances and other hybrid formats, that explore themes such as environmental catastrophes, the possible exchange between humans and non-humans, labor and class struggle.
Monica Duncan is a video and performance artist. Her work explores the nature of visual perception, the relationships between audience and performer, and queer potentiality through camouflage, silence, and collective image-making. Zuzana Žabková is doing art, dance, magic, choreography through performance, video, and installations. She pokes failing utopias and really likes to move as a reptile. She works alone and together with friends reconsidering ways of valuing labour and care. She is a co-founder of platform björnsonova – fictional character, a community and a dancing multi-body with roots and connections spread over time, space and art forms practicing anti-strategies, fate work and fake healing together with Tamara Antonijević, Tanja Šljivar, Lucia Kvočáková, Lucie Mičíková, Nik Timková and others.
Patrick Faurot is a multidisciplinary performance artist and theater technician. He also likes to climb some mountains.
Clara Reiner lives in Offenbach. She performs, makes pieces and ceramics, appreciates humor and mostly works with others. With Max Brands and Christopher Weickenmeier she forms a dormant, weak collective that revolves around choreographic systems, sci-fi narratives, queer theory, theater dispositives and friendship.
Cast & Credits
PREMIERE: September 2021, Kaserne Basel (Treibstoff Theatertage Basel)
CONCEPT and ARTISTIC DIRECTION: René Alejandro Huari Mateus and Romuald Krężel
DRAMATURGY and CHOREOGRAPHY: Monica Duncan, René Alejandro Huari Mateus, Romuald Krężel, Clara Reiner
PERFORMANCE: Monica Duncan, René Alejandro Huari Mateus, Romuald Krężel, Clara Reiner / Zuzana Žabková
VIDEO and SOUND: Monica Duncan
SOUND ENGINEERING: Antonia Beeskow
TECHNICAL DIRECTION, LIGHT: Patrick Faurot
COSTUME: Maldoror
PRODUCTION: Sven Rausch
PRODUCTION COLLABORATION: Felix Schwarzrock
A production by René Alejandro Huari Mateus & Romuald Krężel in co-production with Treibstoff Theatertage Basel (Switzerland), HELLERAU – European Center for the Arts in Dresden and Künstlerhaus Mousonturm in Frankfurt am Main. Supported by the NATIONALES PERFORMANCE NETZ Coproduction Fund for Dance, which is funded by the Federal Government Commissioner for Culture and the Media and by Fonds Darstellende Künste with funds from the Federal Government Commissioner for Culture and Media within the program NEUSTART KULTUR. Supported by the Cultural Office of the City of Frankfurt, Frankfurt LAB – Residency Program, Biennale Warszawa (Poland), Culture Center ZAMEK in Poznań (Poland), as well as the Senate Department for Culture and Europe – Berlin and Edith Maryon Foundation.